Fundamentals of Federal Criminal Defense, Part III – Virtual
Virtual GoToWebinar Platform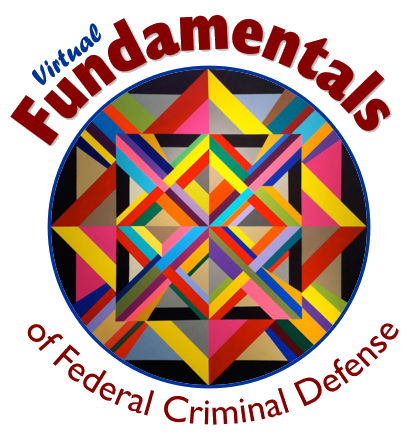 Fundamentals is designed for those new to federal criminal defense practice and addresses topics that you will likely encounter in your practice. This is the third part of virtual Fundamentals of Federal Criminal Defense. Part one took place on February 17 through May 12, 2021 (available with fd.org credentials here). Part two took place on January 19 through February 2, 2022 (available with fd.org credentials here). This third part of virtual Fundamentals complements the courses from the last two years, focusing on immigration consequences, relevant conduct under the Guidelines for firearms and drug cases, defending firearms cases (updated), and an update on Bruen and Rehaif developments.
This virtual course will include four live presentations (which will be recorded) on the GoToWebinar platform. Instructions on how to join this virtual event will be emailed to you from noreply@goto.com after you register. We highly recommend you review the detailed instructions, with pictures, on how to join this virtual seminar, available at https://www.fd.org/fundamentals-federal-criminal-defense-part-iii-virtual. Registrants are not required to view every presentation, though they are encouraged to do so.
This program is open to everyone working with federal defender and CJA panel attorneys. Yes, that means both attorneys and non-attorneys, investigators, paralegals, legal assistants, and any defense professional who will find the program's content valuable to their work.  
If you have questions about the content of this virtual program, please contact George_Couture@ao.uscourts.gov.
We have applied for CLE accreditation in states that have mandatory requirements. We regret that we cannot respond to telephone inquiries regarding the status of CLE approval prior to the seminar. All information related to CLE will be emailed to attendees the week following the program.
In an effort to minimize reporting fees per attorney/program, if you are barred in more than one of the following states NM, TN, PA, NE, attendance will be reported to one state only. The attorney is responsible for making sure the appropriate state and bar number is on file with the DSO Training Division.

For applicable states attendance will be reported using the bar number and state(s) listed on the registration form submitted for this program.

Failure to provide the state and bar number may result in the Training Division not being able to report your attendance.
Thank you for joining us on this journey in this third iteration of virtual Fundamentals.